By Shaman Marketing | March 24, 2020
CBD American Shaman Stores: Due to the COVID-19 outbreak, we have begun producing a Cleansing Wash at our factory here in Kansas City, MO. This product uses an active ingredient called Hypochlorous acid that is non-toxic and environmentally friendly, in addition to being highly effective against viruses and bacteria.
We are also producing Hand Sanitizer under the new rules of the FDA to help area retailers to have the supplies they need to offer what people in our communities need. CBD American Shaman has seen the supply shortages in the marketplace and has dedicated employees to the research, manufacturing, design and logistics of these needed supplies. The factory in Kansas City, MO has tripled it's production shifts to meet the needs of the entire country.
Please see below some of the first successes we've had with distributing free sanitation supplies to first responders:
"We were thinking, 'What can we do to kind of help in this pandemic at this point in time?'" said Vince Sanders, CEO of American Shaman to Fox 4 News in Kansas City, Missouri.

"And we thought, 'Hey, we can certainly make products to get to first responders and hand out to the public as well.' We're literally making tens of thousands of these things as we speak."
When asked about their supplies they had on hand, Deputy Fire Chief Tom Collins said that they, "had been running low on supplies." When asked about the product for disinfecting that American Shaman donated to the fire department, Mr. Collins said, "This will come in very handy because this is something we're extremely short on right now."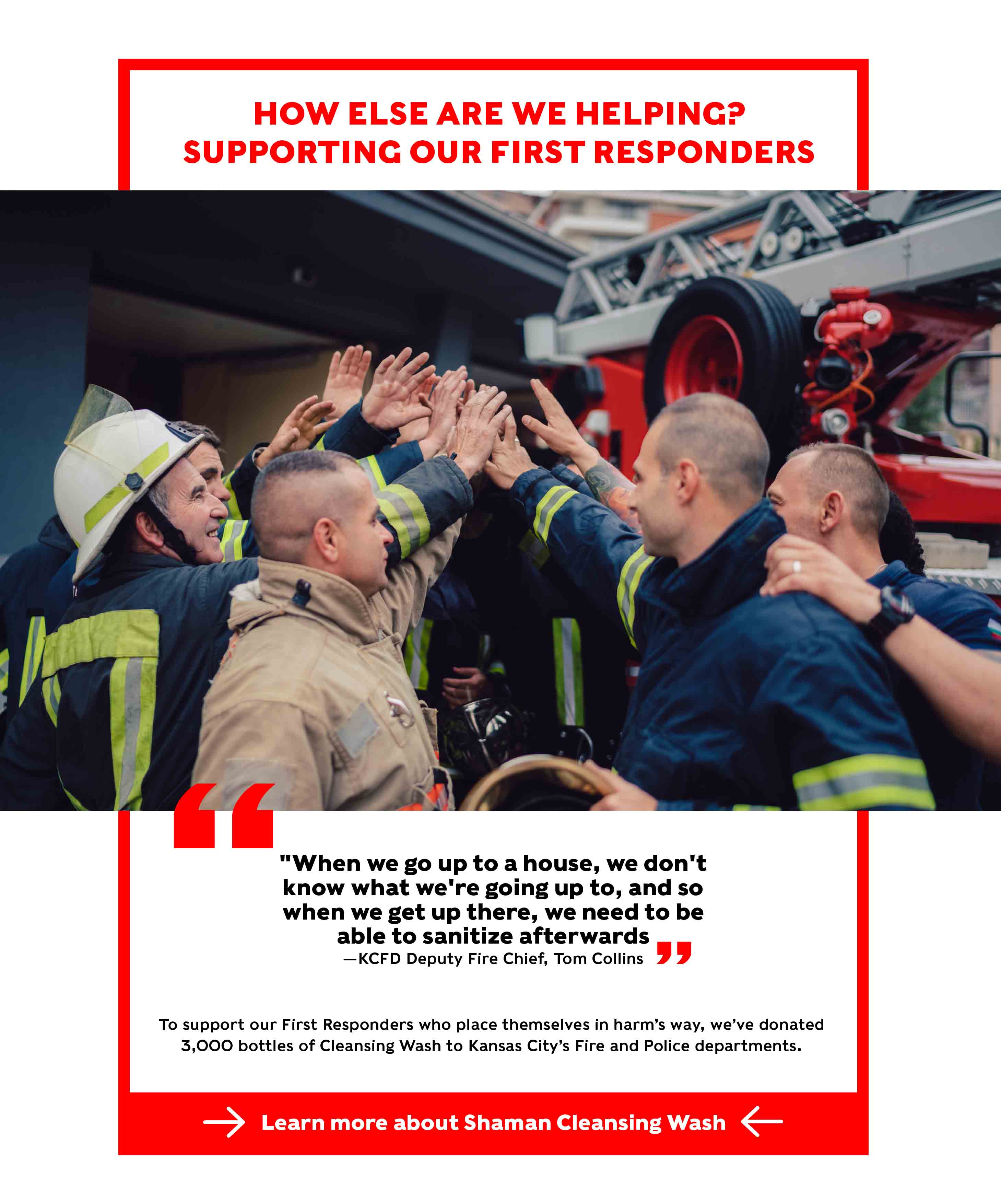 About Hypochlorous Acid
Hypochlorous acid, or HOCl, is a weak acid naturally produced by the body's white blood cells to fight against viruses and bacteria.

Because of its disinfecting properties, it's commonly used in hospitals to clean patients' rooms. HOCl is also used in wound-cleansing applications.

Due to its non-toxic nature, hypochlorous acid is also used in food production, including directly on food.

In fact, it's even used in eye-makeup remover as it's an effective cleaning agent that tends not to irritate skin.

The FDA and EPA both recognize the effectiveness and safety of this active ingredient.

Learn more about HOCl on Wikipedia: https://en.wikipedia.org/wiki/Hypochlorous_acid