Lab Reports
All of our hemp extracts and CBD products go through internal lab testing as well as third-party testing to ensure they meet our strict purity and potency standards.
What do we test for?
We test for CBD and THC content. In order to stay compliant with legal limits, we ensure that all of our extracts and products have less than 0.3% total THC, which includes D9-THC and THCA. Tetrahydrocannabinolic acid (THCA) is a non-psychoactive compound that becomes THC during decarboxylation, which happens when the compound is heated up. Even though THCA is not psychoactive in its current state, we know it could become THC if it gets decarboxylated, which is why we ensure that the sum of D9-THC and THCA is less than 0.3%, rather than just the psychoactive D9-THC.
Lab Reports on full spectrum CBD?
Full spectrum CBD is hemp oil that contains all of the cannabinoids and terpenes that naturally occur in the hemp plant. The naturally-occurring cannabinoids include CBD, CBDA, CBDV, CBC, CBG, CBGA, CBN, D9-THC, THCA, and more. Our full spectrum products all contain trace amounts of THC, in compliance with the legal limit of 0.3%, in order to keep them truly full spectrum. However, they do not contain nearly enough THC to make users high. The terpenes in hemp oil are what give each strain of the plant its unique aroma and flavor.
Why are our lab reports available to the public?
We believe in transparency. We want our customers to know that they are getting exactly the amount of CBD that our labels say they're getting. We work hard every day to ensure that our products meet the legal requirements and provide our customers with a pure and potent product that works. It's the Shaman way.
How to Read CBD Lab Reports
Lab reports can be confusing if you're not a chemist, but with some explanation it's easy to understand the hemp oil analysis. The following diagram explains what each part of the lab report means, in simple terms.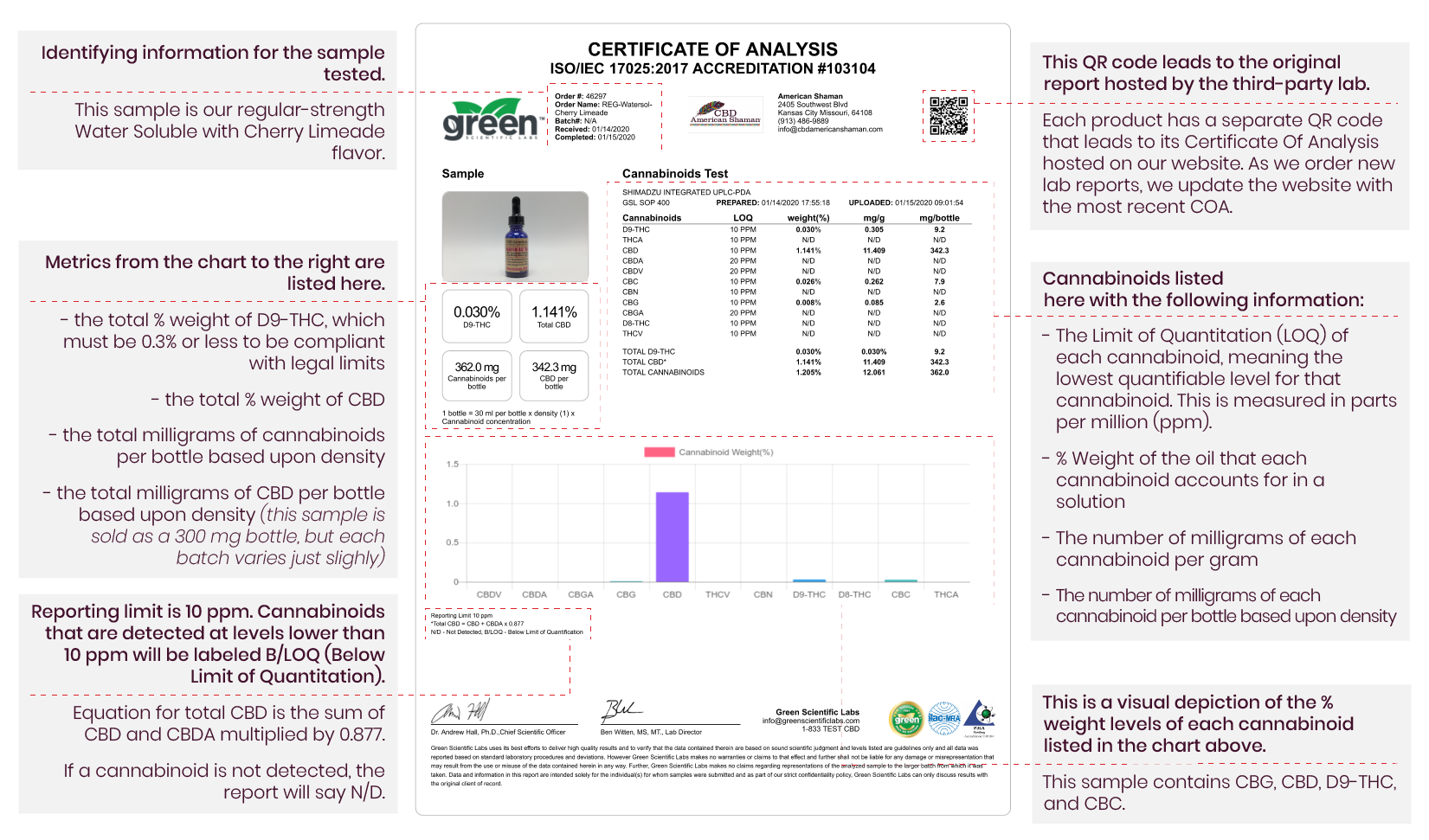 Filter this page by product to find the lab reports for the products you use. You can also scan the QR code on the bottle or packaging of our products to view the lab report for that specific batch.